The Academy Awards! Ray Comfort! And the largest bike race in California… all on this weekend. It's an evangelist's dream!
This Saturday we will head on down to Huntington Beach to share our faith alongside Ray Comfort. Meet at Hope Chapel at noon; we will leave promptly at 12:30. Read about the first time I preached with Ray here.
Also on Saturday, if you live in the Northern Territories (Santa Clarita), join Tony Miano and his team for the largest bicycle race in SoCal: The Amgen Tour of California. Click here for times and locations.
The Academy Awards are on Sunday.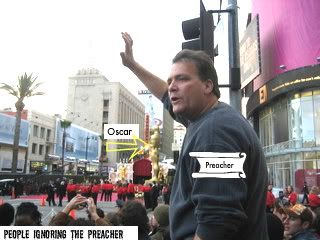 This will be the third year in a row that we will crash the Oscars. Meet at Hope Chapel at 12:45 to carpool. If you would like to meet up with us in Hollywood, send me an email for parking and locations.
(Read about the very first time we preached at the Oscars here!)