9/18/22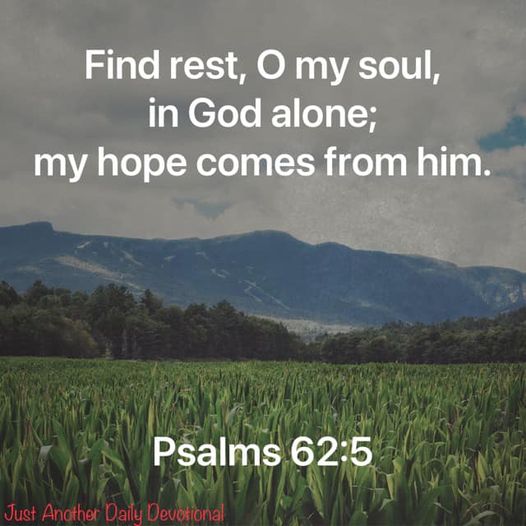 WE MUST MEET WITH GOD FIRST THING EACH MORNING!  
There are many things to do every day but "only one thing is necessary." (Luke 10:42)
We can worry about our families, our health, our finances, our government first thing when we awaken, or get right to chores. or we can sit with our Heavenly Father who will "instruct you and teach you in the way you should go." (Psalm 32:8)
"Truly he is my rock and my salvation; he is my fortress, I will not be shaken." (Psalms‬ ‭62:6‬)
We have all experienced much trouble and can sometimes fret about the days to come until we take the Psalmist's words to heart. "Trust in him at all times, you people; pour out your hearts to him, for God is our refuge." (Psalms‬ ‭62:8‬)
Is he your refuge? Or is Jesus relegated to the time when you get around to it?
We spend time with those we love, but only One can change our circumstances and our thoughts.
Dr. George Pardington (1866-1915) said, "Waiting upon God is vital in order to see Him and receive a vision from Him. And the amount of time spent before Him is also critical, for our hearts are like a photographer's film–the longer exposed, the deeper the impression. For God's vision to be impressed on our hearts, we must sit in stillness at His feet for quite a long time. Remember, the troubled surface of a lake will not reflect an image. Yes, our lives must be quiet and peaceful if we expect to see God."
There's a reason the Psalmist started his Psalm this way: "Truly my soul finds rest in God; my salvation comes from him." (Psalms‬ ‭62:1‬) ‭
Frederick William Faber (1814-1863) was correct when he wrote, "It is very unusual for there to be complete quiet in the soul, for God almost continually whispers to us. And whenever the sounds of the world subside in our soul, we hear the whispering of God. Yes, he continues to whisper to us, but we often do not hear Him because of the noise and distractions caused by the hurried pace of our life."
Will you start today seeking him?
First?
*** #JustAnotherDailyDevotional is based on my morning readings in The One Year Bible. If you'd like me to send these to you each day, leave a comment.