Hope Chapel's very own DMV preacher, "Righteous Richard" Chavarria, made the new cover of Ray Comfort's book, How to Win Souls and Influence People. (He's the guy with the lips over his head, according to Way of the Master graphics artist extraordinaire, Dale Jackson.)
Who would have ever thought that a man who had resigned himself to working in his church's Parking Ministry after retiring from an L.A. City job, would take a step of faith by going to an evangelism class, applying what he learned, then preaching regularly at his local Department of Motor Vehicles? That's what happened to Richard. Now he's infamous: Not only is he a big TV star, but a coverboy as well!
Who knows what will happen to you as you witness faithfully, boldly, and fearlessly? I know one thing. You will have the commendation of God.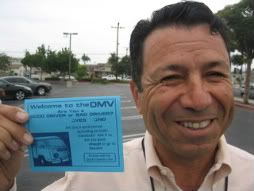 Read other "Righteous Richard" postings:
The "Stoning" of Richard
"Loud Mouths"
"Crazy on a Crate"
"'Righteous Richard' Almost Gets Whacked"