THE BABY JESUS WAS NOT BORN ON DECEMBER 25.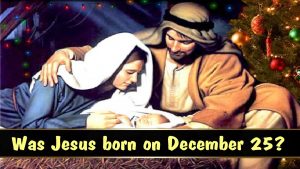 What? Are you kidding me? Nope.
The Christmas season brings with it a lot of great and wonderful traditions, but have you ever thought how these customs came about? You may be surprised! Let's start with that Christmas date.
The early church in the first few centuries did not celebrate the birth of Jesus arguing against celebrating all birthdays of saints and martyrs. The early church fathers suggested that saints should be honored on the day they died for Jesus.
Previous dates for His birth were January, March, April, May and November. It's not exactly clear why the church settled on December 25th, but the first recorded reference to it was in the 3rd century.
The date we now celebrate was probably to replace the pagan holiday, "The Birthday of the Unconquered Sun," which honored the sun god on what they thought was the first day of the Winter Solstice. It's fitting that the "Sun of Righteousness," Jesus, "will rise with healing in his wings" on the darkest day of the year as the Light of the World.
Here are some other Christmas tradition origins: Kissing under the mistletoe may have come from a Druid tradition where enemies would meet underneath it and would stop fighting to declare a truce. Continue Reading