I found an old photo from my "other life" circa 1980, when I was at a bar called Hussong's Cantina in Ensenada, Mexico.
I was 21, stupid, had way too many cervezas, and decided it would be a good idea to dance on top of a table.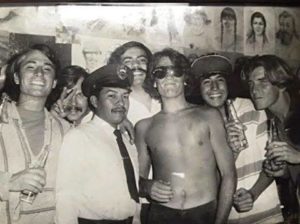 Suddenly, two Federales grabbed my shoulders and escorted me to the shadows. Thankfully, a Mexican local, whom I did not know, followed us into the "torture room" and negotiated my release. (I'm the smug, shirtless guy standing next to one of the arresting officiales.)
December 2nd marked my 29th year as a Christian, a bond-slave of Jesus Christ, an unworthy servant, worm, wretch, completely dependent on my Master for life and breath and everything I have.