In light of Carol's persecution by some demonized crazies on Good Friday, I was reminded that some things never change. Read the account of John Wesley's persecution as he preached the Gospel in Great Britain during the 18th century.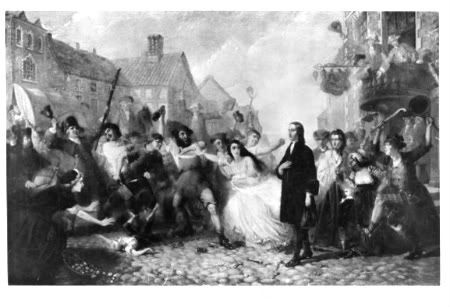 In their mission to bring the Christian message to every town and village in Great Britain, the 18th century Methodist preachers travelled extensively.
They would arrive at a place, attempt to preach in one of the churches or, failing that, in a market place or at a fair.
Their style was engaging and they spoke with authority and grace. Wesley described their work as 'offering pardon to sinners'.
But they didn't always receive a warm welcome. While many thousands gathered to hear the message, some reacted negatively. Sometimes fuelled by jealous clergy, or fearful 'Gentlemen', and sometimes by a basic reaction of anger, the preachers faced violence fairly regularly. This was a different type of spiritual warfare.
John Wesley, making an entry in his journal for 20th June 1743, wrote,
'Before five the mob surrounded the house again, in greater numbers than ever. The cry of one and all was, "Bring out the Minister! We will have the Minister!" Read the rest of the account here.