This Saturday we will be going to one of the largest parades in the world.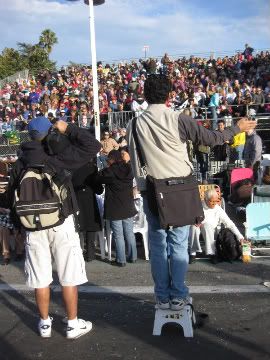 We'll preach to those in the grandstands (as you see "Righteous Richard" doing to the left), preaching to those at the Porta-Potties (see below), handing out thousands of tracts (freely provided for you), and maybe even have a few one-to-one conversations. (Read about what you didn't see on TV in 2009 here).
Oh! And don't forget to watch this video of when thousands booed us last year.)
If you'd like to carpool with us and join in an evangelistic adventure you will never forget, (REVISED) meet at Hope Chapel at 5am. If you'd like to meet us in Pasadena, meet at the Metro Rail station at Sierra Madre Villa at approx. 6am at the ticket line. We will take the train to Allen Ave. and walk to the parade on Colorado Blvd.  Contact me at 310-374-4673 x. 121 and I'll give you my cell.
Some fun facts about the parade:
18 million flowers, 5,000 gallons on glue, 600 tons of steel, and 300 horses are used in the parade.
Which band has been in the parade the most times? The Salvation Army Band. It has marched in every parade since 1920.
The most-played song in the parade? "Everything's Coming up Roses"
Average temperature: 68 degrees
It's rained 10 times on the parade: 1895, 1899, 1906, 1910, 1916, 1922, 1934, 1937, 1955 and 2006.
It's never rained when the evangelists were there (we started in 1997).
2,000 people watched the first parade; now it's about 700,000.
51.9 million watched on TV to more than 220 countries and territories outside the U.S.
Parade route: 5.5 mil
How many tracts did the evangelism team hand out last year? 20,000-30,000
How many people got saved as a result of the evangelism team's efforts? Only God knows. We just want to be faithful.