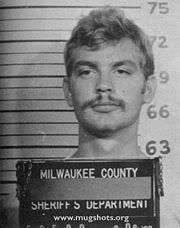 Jeffrey Dahmer was a notorious mass murderer who killed seventeen young men, ate them, and stored various body parts in his refrigerator. The police ended up finding eleven corpses in his apartment.
Here's an excerpt from Phillip Yancey's excellent book, "What's So Amazing About Grace":
One network showed a television program taped a few weeks before Dahmer's death. [In 1994 Dahmer was himself murdered, beaten to death with a broom handle wielded by a fellow prisoner.]The interviewer from a network asked him how he could have possibly done the things he had been convicted of. At the time he didn't believe in God, Dahmer said, and so he felt accountable to no one. He began with petty crimes, experimented with small acts of cruelty, and then just kept going, further and further. Nothing restrained him.

 Dahmer then told of his recent religious conversion. He had been baptized in the prison whirlpool and was spending all his time reading religious material given him by a local Church of Christ minister. The camera switched to an interview with the prison chaplain, who affirmed that Dahmer had indeed repented and was now one of his most faithful worshipers.
Dear atheist friend, I appeal to you before the start of a new year: Put your trust in the Risen Savior who can forgive you of your rebellion and sin. Quit the phony arguments that there is no God. You know there is.
If you wait, no telling where your sin will take you.
***See what Dahmer had to say about all this in this short 5 minute interview: