THE WORST DAY IN AMERICA OCCURRED 44 YEARS AGO TODAY, when the government granted women the "right" to slaughter their children.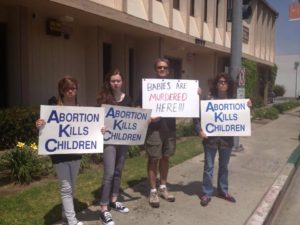 Is that too harsh an assessment? Of course not. The image above was from when my family would regularly attend a Long Beach abortion clinic to remind adult women of the baby women (and men) in their womb.
A few paid attention.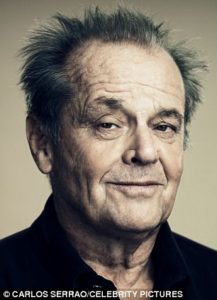 ACTOR JACK NICHOLSON said, "I'm very [opposite] my constituency in terms of abortion because I'm positively against it. I don't have the right to any other view," Nicholson told the National Review in 2003. "My only emotion is gratitude, literally, for my life." His mother chose life for him when she was a pregnant teenager.
Russell Moore wrote this, concerning the memorial that was held last Sunday: "I hate Sanctity of Human Life Sunday because I'm reminded that we have to say things to one another that human beings shouldn't have to say. Mothers shouldn't kill their children. Fathers shouldn't abandon their babies. No human life is worthless, regardless of skin color, age, disability, economic status. The very fact that these things must be proclaimed is a reminder of the horrors of this present darkness"
To refresh your memory, the case that changed abortion law in America was when Norma McCorvey, (a.k.a. Jane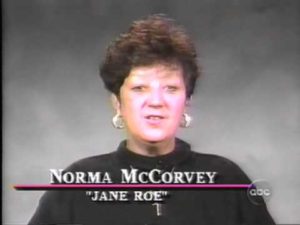 Roe), sued the state of Texas and won the right to obtain an abortion. Close to 60 million babies have been aborted since then. In all the American wars less than 1.5 million people have died, yet this is close to how many babies are killed each year!
Do humans have a right to kill an unborn baby?
The Bible says no: "The LORD brings death and makes alive; he brings down to the grave and raises up."
In a Biblical worldview, the fact that God forms children in the womb is assumed, and therefore it's only his decision whether a person lives or dies.
The Psalmist wrote, "My frame was not hidden from you when I was made in the secret place, when I was woven together in the depths of the earth."
God said this to Jeremiah when he called him to serve him: "Before I formed you in the womb I knew you, before you were born I set you apart…."
To Christians, abortion is always wrong because it is an attack on God's work of forming a person.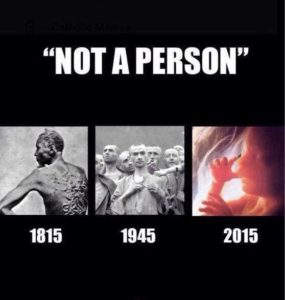 So when does life begin?
Dr. Alfred Bongioanni, Professor of obstetrics at the University of Pennsylvania stated, "I have learned from my earliest medical education that human life begins at the time of conception…."
"…after fertilization has taken place, a new human being has come into being," said Dr. Jerome LeJeune (University of Descartes)
Prof. Micheline Mathews-Roth of Harvard Medical School: "It is scientifically correct to say that an individual human life begins at conception."
Even pro-choice people agree life begins at conception. The owner of Oregon's largest abortion clinic testified under oath, "Of course human life begins at conception."
Abortion is wrong because abortion is murder. The fundamental reason why abortion and murder is wrong is that human beings are made in the image of God.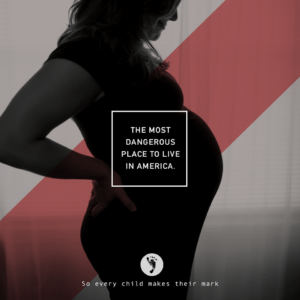 Do you know what the most powerful sentence spoken in America today? "I do not want this baby at this time." I don't want this baby, therefore it's not a baby. When a mother makes that statement, "I do not want…" and terminates her pregnancy, she has become sovereign over her child, not God.
Today, remember those who have died on behalf of "reproductive freedom" and women's "rights" by praying for the unborn, their undecided mothers and the physicians who abandoned their professional ethic, "First, do no harm."
And support your local Pregnancy Resource Center.
(Special acknowledgements and thanks to Dr. John Piper and Randy Alcorn for their ideas and contributions to this article, from whom I borrowed much. From my weekly article in the Johnson City Record Courier)