This is what a street preacher looks like from a congregant's perspective; that is, the shopper sitting on a shuttle bus, returning to their car after a long day at the Fiesta Hermosa, the twice-a-year pagan street festival where no church is represented among the trinket booths.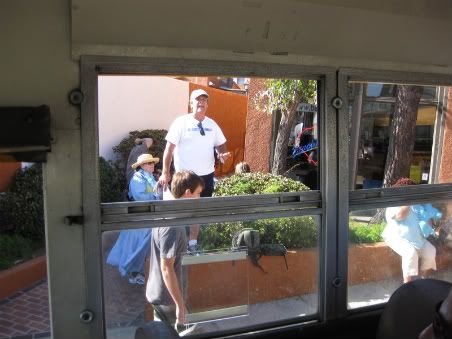 It's quite an effective way to get the gospel out; if you've never tried it, you really should. There's just one catch: people get kinda cranky at the end of the day in the hot sun; add to that a few brewskis, and you just might find yourself on the receiving end of a pointed insult—or worse. Like what happened to me…
But I'll get to that in a moment.
My friend from Australia, Josh Williamson, gave it a go. Since they don't have freedom of speech down under, he was more than happy to share with fair-goers the great news that Jesus Christ was the only way to Heaven.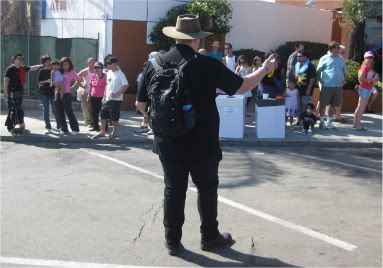 After a few obligatory "Shadd-aps!" and cynical eyes rolling heavenwards, the crowd settled down and listened to the guy with the funny accent. But two ladies were very angry that they were being filmed by our videographer. "He can't film me!" one protested. "I'm a public figure and if I see this online, I'm going to sue!" I asked her who she was, but she declined to reveal herself publicly.
A man off to the side screamed something. Josh ignored him, not fully understanding an insult in accented American English.
A Security guard tried to stop him, but Josh, being around 6′ 8″ (or so), simply stepped around him and continued to preach.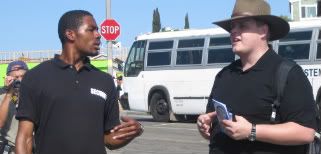 Then it was my turn.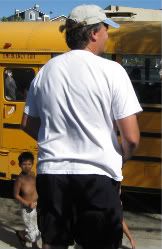 There's a little joke on our evangelism team that whenever something bad happens, it happens to me. Whether it's getting splashed in the face while preaching in front of a beer garden, or getting smacked in the face at the NBA Finals, or being pulled down from a street sign, it only happens to me.

When "Righteous Richard" preached at this very same shuttle bus line, all he got was an angry man shouting at him from a window. Not me.
Nope. Something worse happened….
Everything was going so well. The shuttle pulled up; I stood at the exit and handed out gospel tracts to everyone getting off the bus while greeting them with a cheery, "Welcome to the fair!" They took the tracts, thinking I was a fair representative. I was, too. Fine.
As a line formed to take people from the fair, I jumped on a wall and preached a simple four minute message. Never mind that the line ignores me as they climb aboard the bus; I'm not easily offended. Besides, I know that they can still hear me through the open windows and that gives me great solace.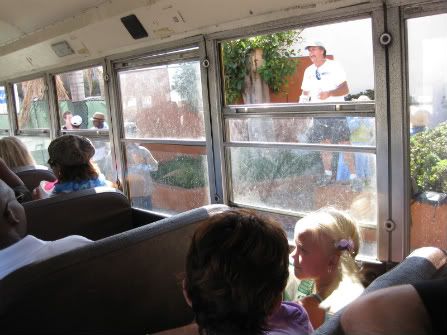 Heck, I'm not even offended when they try to shut the windows, because I know that there ain't no air conditioning on those big ole yellow buses! I'm not even offended when the twenty-something lesbians lip-lock in full view of my preaching, because I know that they are doing this to distract me. Hey! I live in L.A. No big deal!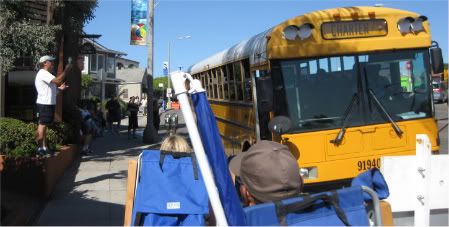 What really offended is what I didn't see though I did hear the warning sign. From behind I heard "Shadd-ap!" Then Wham!—blind-sided by a guy who came from behind and shoved me off my perch! I fell violently—in slow motion—to the ground. The nerve of the guy!
"That's assault!" I sputtered. He ignored me. I tried to pull out my camera to get a picture but… what's the point? Jesus did say that all men will hate me because of him; this was just a promise being fulfilled. I wasn't hurt; fortunately I caught myself in time. In fact, my daughter D.D. laughed.
Laughed.
What's a street preacher to do? Can't sue. Can't push him back. Can't hit him. All I can do is one thing—the most important thing.
Get back on the wall.
And preach!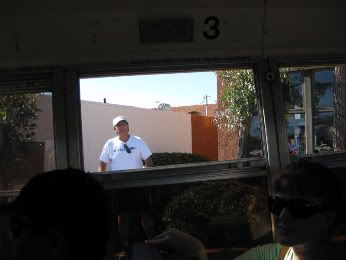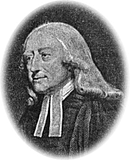 John Wesley (1703-1791), in recounting a preaching session gone bad, wrote this in his journal: "When we came pretty near the town, both men and women saluted us, first with bad words and then with dirt and stones. My horses soon left them behind, but not till they had broken one of the windows [of the carriage], the glass of which came pouring in upon me, but did me no further hurt."