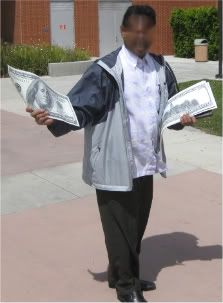 This is "Mr. Gupta" (not his real name). He is a visiting missionary to the States from a restricted country that was formerly part of the Soviet Union. I had the pleasure of his company a few weeks back when he accompanied me to my local college fishing hole where I share my faith weekly. He was in awe of the freedom we have to preach the Gospel uninhibited. You see, where he ministers he can't even say the name Jesus because the phone lines may be tapped.
I showed him how easy it is to hand out Gospel tracts on campus using the Giant Money and the Million Dollar Bills. "You are allowed to do this?" he asked incredulously.
"Not only that…" I replied. "Follow me."
I took him to the student union where about fifty kids were  sitting at outdoor tables. After handing them all Gospel tracts, I preached to them
in the open air.
"They don't stop you from doing this?" Mr Gupta sputtered.
"Nope. We have great freedom to preach in America. The sad thing is, too few Christians take advantage of that freedom."
On the day that Mr. Gupta visited the campus he took full advantage of that freedom.
Have you?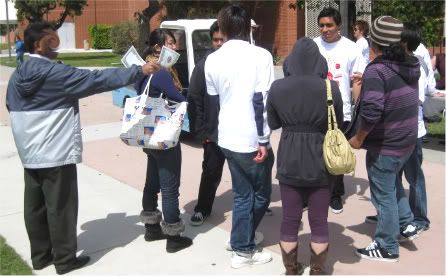 Post how you did last month
in the comments section below.
Don't quit!
Remember, when you sign up for the Everyday Club, you may also sign up for the Bezeugen Tract Club and get 30 free tracts every month.  If you want to join click here.