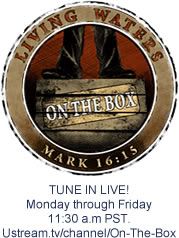 Many of you are aware that Ray Comfort and the Way of the Master team have a daily evangelism web show called "ON THE BOX."
I had the opportunity to be a guest on the program a few weeks ago to fill in while the team is in Israel. Episode #1 was yesterday (May 3) and Episode #2 is today (May 4), from 11:30am-noon. I will post them here on Thursday if they are available.
If you've never seen the show, and you're into biblical evangelism, then you don't want to miss it. Click here to go to "ON THE BOX" and to see archived editions.