When Tommy Smothers accepted his statuette for commemorative writing achievement for his 60's series, "The Smothers Brothers Comedy Hour" at the Emmy Awards Sunday night, he said, "…there's nothing more scary than watching ignorance in action." He dedicated his award to "all people who feel compelled to speak out, and are not afraid to speak to power, and won't shut up and refuse to be silenced."
Of course, Tommy's words were part of another boring leftist diatribe, but he could have been talking about the evangelists who showed up at this big L.A. event to preach, not protest, the starry gala at the Nokia Theatre.
We never know what to expect when heading to a new event. Will we be prevented from preaching by over zealous Security? Will the blockades be such that we can't get near? Will be arrested?
That's why we always pray first.
After praying we "coincidentally" happened upon a lady who was working the event. She got us behind the scenes where the stars, and the stars' friends, were driving up to park. We tipped all the valets with Million Dollar bill Gospel tracts.
Then the Marines who were running the Security detail got their big bucks.
We wondered how long we'd be allowed to walk around unhindered; someone indeed dropped the ball security-wise, because the whole lot of us had free reign to go just about anywhere we wanted. But we weren't there to see the stars, we wanted to preach. God knew that, so he harkened a lady Security guard with attitude to stop us. "Hey! Hey!" she shouted. We gathered up the all the troops except "Righteous Richard" Chavarria, who ignored her, or didn't hear her, and kept walking. She caught him on the plastic covered Red Carpet.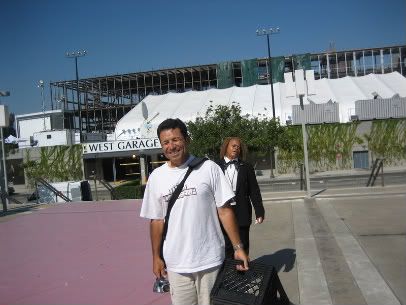 We were now on our way… with our own personal escort. She handed us off to an L.A.P.D. officer, who deposited us behind the teeming throng of fans eagerly awaiting the arrival of their favorite small screen stars.
We were completely amazed! We prayed that God would grant us favor by allowing us to preach; he did. We didn't know where to go so he provided our own personal guide; and now we were about 50 feet from all the stars, directly behind the people we wanted to reach!
There was some bad news, too. The "Sign Guys" were there…
…including the unchurched "Sign Guy" we last saw at Huntington Beach…
…who had his own way of doing things.

Oh noooooo! We didn't want to be associated with protesting "Sign Guys! We weren't there to protest anything. We were there to proclaim the Good News! What could we do?
(Read Part 2 by clicking here!)