I preached my first sermon at Community Church of the Hills one year ago last Sunday, July 10, 2015.
Never, in a million years did I ever expect to be pastoring a church in the middle of Texas, especially since I'm a native born—ahem—guy from the west coast, from the second largest city in America. (Is that vague enough?)
Oh, but what a wonderful change!
I didn't move to Texas like other Californians because of huge profits from the sale of their homes and getting double—triple—the value in the Lone Star State. I didn't move as some sort of left-wing conspiracy to change the political climate of this Red State (I'm a conservative). I didn't even move here as a protest against the Golden State and its strange brew of crazy, nonsensical, burdensome, ridiculous tax and social laws.
No, I came for one reason and one reason only: God called me.
I didn't hear any voices, no angel trumpeted from Heaven nor did a lightning bolt strike a special place in my Bible. A series of circumstances aligned themselves together to cause me to pray about uprooting my family, leaving a church where I had been an associate pastor for fifteen years, abandoning a pension that I would receive in just five years, and, of course, saying goodbye to everything familiar, including family and friends.
When Jesus said to two fishermen, "Follow me, and I will make you fishers of men," Immediately they left their nets and followed him. I.R.S. tax collector Matthew left his lucrative business behind when Jesus called him, too.
For what purpose did He call me? To plant a church in Dripping Springs with just my family. How do you think that turned out?
In Drip it seemed that everyone had the attitude of "California Boy Go Home," and it was proved out by the very few attending Hope Chapel Hill Country. It never grew and got so bad that I thought God was calling me out of the ministry.
But He is faithful. A congregant there told me that a pastoral position had opened up in the church they used to attend—Community Church of the Hills, in Johnson City, (hometown of LBJ, our 36th President)! And guess what? I now oversee the best group of people in the Hill Country with a mission to reach J.C. for J.C. (Johnson City for Jesus Christ).
But what about that anti-California bias I received in Drippin'? Would there be more of the same in Johnson City? I'm happy to say that I only get ribbed a little about coming from the Left Coast, the land of flakes, fruits, nuts and Governor Moonbeam.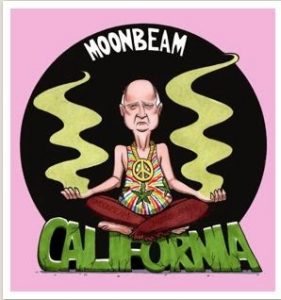 I've found acceptance deep in the heart of Texas (clap, clap, clap, clap).
In fact, I'm so deep in Texans that the founding elder of our church and his sister's great grandfather founded Johnson City. Another member's great grandfather founded Hye, the next town over.
Californian or Texan, regardless, we have one thing in common in our fellowship: a deep love for Jesus, His Word and each other.
I'm glad I left everything to gain even more. I'm so thankful, y'all!
(Read how all those events lined up to send me to Texas by clicking here: www.StoneThePreacher.com/Moving-On/ )