It happens to everyone who shares their faith on a regular basis…. You've scheduled an exciting time to go out and hit the streets to evangelize, you've got the plan, the tracts, you're prayed up… then on the day of the event, no one shows up. It's just the two of you: God and yourself. What do you do?
Go out anyway.
"Righteous Richard" Chavarria led our "team" last Saturday to the Hermosa Beach St. Patrick's Day Parade. Though he went solo, he had an army behind him.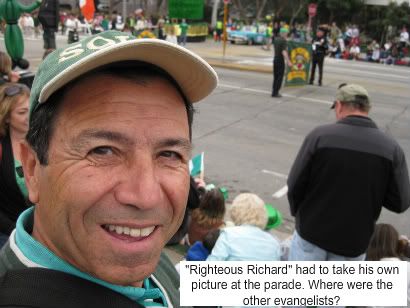 Has this ever happened to you? What did you do, give up or go out? What advice do you have for those in small churches that encounter this obstacle regularly?
NEXT: A RADICAL ANTI-WAR PROTEST. CLICK HERE TO READ ABOUT IT.