John Wesley died on March 2, 1791.
He was one of the greatest open air preachers who ever lived accomplished what few others have ever done. At the age of thirty-six he started his itinerant ministry traveling over 250,000 miles on horseback and preaching  over 40,000 sermons to crowds as large as 20,000 people.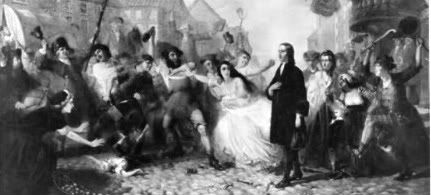 Often getting up at 5am to preach three times daily, he left a legacy of 79,000 Methodists in England and 40,000 in America. He was also known as the "Father of the Religious Paperback" publishing 5,000 sermons, tracts and pamphlets. He gave away $150,000.000 during his lifetime to spread the Gospel, living way below his means to do so.
I wonder if Wesley was ever accused of "Jerky Evangelism"?
He left behind a well-worn coat, two silver teaspoons, and the Methodist church. His last words were, "Farewell." —From the One Year Book of Christian History
Read about how his ministry
cost him his marriage by clicking here.