Ho! Ho! Ho! This is yet another Christmas re-post from last year!
We had a singer at our church whose uncle wrote the original Christmas standard, "Have Yourself a Merry Little Christmas." He got saved in 1977, then wrote a Christian adaptation of the song which is very good, except for one major theological flaw. Can you guess what it is?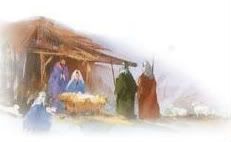 To find out the theological issue, what others thought about the song last year, and our solution to the lyric problem, click here and go to the comments.
Here's the original Christmas song (Where's the flaw?):
Have yourself a blessed little Christmas
Christ the King is born
Let your voices ring upon this happy morn
Have yourself a blessed little Christmas
Serenade the earth
Tell the world we celebrate the Savior's birth
Let us gather to sing to Him and to bring to Him our praise
Son of God and Friend of all
To the end of all our days
Let us proclaim the joyous tidings
Voices raised on high
Send this carol soaring up into the sky
This very merry blessed Christmas lullaby
Let us gather to sing to Him and to bring to Him our praise
Son of God and Friend of all
To the end of all our days
Sing hosannas, hymns, and hallelujahs
As to Him we bow
Make the music mighty as the heavens allow
And have yourself a blessed little Christmas
Have yourself a merry little Christmas
Have yourself a blessed little Christmas now