The homework for my evangelism class includes handing out one Gospel tract—only one Gospel tract—on the second week. This can be an absolutely terrifying experience for those who have never done this, or don't do it regularly. Here are some encouraging testimonies from those who wrote about their adventures at my latest class's "What's Your E-vangie Tale."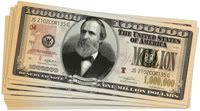 From Jennifer:
Last Friday night I picked up my husband's Aunt from work. When she got in my car, one of the first things she said to me was "What is that?". I told her that they were tracts. (I had my whole stack of tracts on my center console.) I pulled one out and handed it to her. She has really bad eyes and couldn't read the small print. I told her a little about what it said and asked her to read it later when she got home; she said she would.
The next day I got a text message from her saying that my million dollar tract was "SO inspirational that she wanted to go to church on Sunday." She went to church that Sunday and told me that she would like to start coming to church with me and my family.
I am so excited about this. My first success story and I really didn't have to do anything!!! I can only imagine how excited I am going to be when she tells me that she has been saved.
***Now read about what happened with the kids from a large family who are taking the class…
Nathanael says:
I am 8 years old. I gave a tract to a boy on the sidewalk. I was a little bit shy. He said "Oh, thanks". I think he liked it.
Gloria says:
I am 9 years old. This was thee first time I handed out a tract and I was kind of nervous, exited and scared she wouldn't accept it. I gave an I.Q test tract to a female bank teller at U.S Bank. She looked kinda funny at it and just replied " Oh, thanks." She looked like she was going to read it, but there was a long line.
John says:
I am 11 years old. The first time I handed out a tract sucsessfully was at Chase Bank. We had finished inside and were heading toward the door when I saw two Chase Bank associates behind a desk. I ran up to them and handed each of them a tract. They took it, laughing. That really helped with my fear of handing out tracts.
Ruth says:
I am 13 years old. I tried to give a tract to two girls. They looked at me strange and said no thanks. I was really nervous, since this was the first time I had tried to give a tract. "Go and make mistakes."
Lois says:
I'm Lois, a fourteen year old. I was really nervous about handing out the first tract of my life! So when I saw a truck parked right next to the library with a man looking kind of bored of being inside an idle truck, I was almost afraid to take this opportunity. But when I handed it to him, I was enormously encouraged when he laughed and took it gladly. I think I'm ready to hand out another one!!!!
Claudia says:
I am 18 years old. Last Friday, I handed a tract to man coming out of the library. When he asked what it was, I told him it was a gospel tract with an important message on the back. As I left, he was looking it over, pretty interested–praise God!