Two weeks ago at USC we encountered strong resistance from a couple of drunken fans, so much so that the police intervened and did something I've never seen in all my years of preaching the Gospel. It was shocking! (I'll post that video tomorrow.)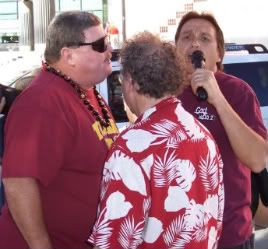 There's always some type of conflict that happens when we preach there and I just can't figure out why. We're giving good news for goodness sake! Good news!
The big man in the photo dumped beer on one of our female preacher's sound system two months ago and tried to prevent one of our evangelists from speaking the truth by throwing his weight around two years ago. (But we developed an effective technique to frustrate his efforts; read about it here.)
I can hardly wait to see what happens this Saturday when the Trojans face the Ducks—and us—again. Meet at Hope chapel at noon to carpool. Returning by 5:30.Directions for free parking:take the 110 freeway and get off on 37th St. 37th St. turns into Hope St. Go past the DMV offfice on the left and go under the freeway. Turn left of Flower St. then Right on 37th St. to the parking lot under the freeway.
In case of rain, which we've been experiencing over the last several weeks, we will be doing something we've done only once before: