Last time we visited Venice Beach, we barely escaped with our lives… seriously.
We had set up a little open air microphone along with a heckler's mic to engage the crowd on the downhill side of a grassy knoll. We were having a great time of it all day; the crowds were friendly, and everyone was enjoying the bright sunlight while they strolled on the boardwalk. Then things turned dark.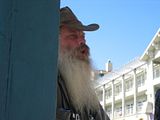 A homeless man stepped up to the mic to take "The Good Person" test. If he was good enough to make it to Heaven he would receive $20. Of course, after answering our pointed questions—"Have you ever lied? Have you ever stolen? Have you ever used God's name in vain?"— he realized that he was not a good person but a lying thief and a blasphemer, headed for Hell. He didn't get his twenty bucks.
He wanted the money. Show me the money!!!
I told him that he didn't earn it, that no one is good enough to make it to Heaven, and, "Would you like a nice stuffed animal instead?"
No way. He wanted the money. "I want the twenty dollars!" He shouted more loudly, "I want my money! I want my money! This guy isn't giving me the money!"
I looked around for help but there was none.
Suddenly, every homeless person in Venice appeared over the top of the grassy knoll like zombies out of "Night of the Living Dead." "I want my twenty dollars! I want my twenty dollars!" the homeless man continued to yell.
Fearing for our lives, my two daughters and I cracked open the stuffed animal bin and handed out cute furry creatures to the ravenous mob, now ready and willing to devour our brains. Our driver "Righteous Richard" Chavarria, had left to get our ride and was nowhere in sight. The homeless man shouted and sputtered that he still wanted his twenty; the homeless zombies grabbed at stuffed monkeys and fluffy doggies until… the white church van pulled up.
"Richard!" I screamed. Hurry! Get us out of here!" We rushed all our equipment into the vehicle and slammed the doors. Speeding away, we saw the homeless man running alongside the van, still yelling.
It's been two years since we've been to Venice Beach, and we're going back again this Saturday.
I hope the homeless dude won't recognize us.
Meet at Hope Chapel at noon to carpool. (Read about another visit to Venice Beach by clicking here.)