Antony Flew was a respected life-long atheist who stirred the unbelieving world when he cast off his unbelief and acknowledged that there probably was a God. Sadly, he fell short of believing that God was personal, and, ultimately died without Christ. This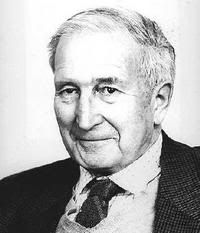 short biographical sketch from the estimable Albert Mohler shows that while rejection of atheism is encouraging, one's rejection of Christianity is a warning. Unforunately, rejecting atheism is simply not enough.
The Death of a (Former) Atheist:
Antony Flew, 1923-2010
by Dr. Albert Mohler
The death [in April 2010] of Antony Flew brings an end to one of the most interesting lives in twentieth century philosophy. Throughout the last half of that century, Professor Flew was recognized as one of the most significant philosophical advocates of atheism, eventually writing at least 35 works, many arguing for the non-existence of God. Then, at age 81, Antony Flew changed his mind. God, he explained, probably does exist.  Click here to read the rest.