For almost a year now at this blog atheists and other militant unbelievers have been posting here. For the most part, I allow their comments with very little editing because they demonstrate to the believer the true sad state of an unredeemed mind. Their objections are pointed, at times sarcastic, a little bit brutal, and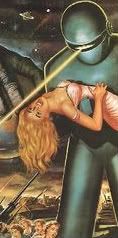 always, always, against what we Christians believe.
If you are a Christian follower of this site, you may be wondering what is their purpose in being here? What do they hope to achieve and why do I allow them to comment at all? Believe it or not, I have a redemptive purpose in mind, a strategy that relies on God rather than my own weak and feeble arguments. In other words, this is an evangelistic strategy….
You also may be wondering who are these unbelievers and are they organized? Do they have some nefarious Master plan to take over the world? Or do they do this for honor, to serve man?
Time allowing, in the coming weeks on Atheist Tuesday, I will slowly reveal their not-so-hidden agenda, their hypocrisy, and, their failure.
It's a cookbook!