It was a great time at The Way of the Master's Ambassadors' Alliance, an intensive three day evangelism training where I served as a team leader of nine committed evangelists. Nearly fifty people from around the country and around the world came to hear excellent teaching from the staff of WOTM and to be trained—hands on—in Guerrilla Street Witnessing.
During the rest of this week I will be providing inside curiosities and weird, wacky stories that we experienced as a team, including: The Salvation of Shrek; The Demon Tree Guy; The Angry Grauman's Theater Chicken Lady; Persecution by Rent a Bike; and how John Travolta got a Million Dollar bill! Stay tuned…
But right now, witness for yourself the almost-persecution of student John Chisham, a Pastor from Minnesota who attracted the wrong kind of crowd as he started his first open air preaching session on Hollywood Blvd.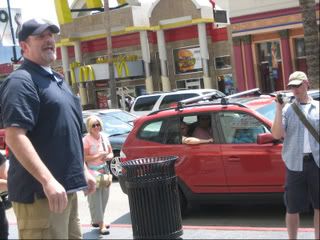 John's big voice and commanding presence attracted a contingent of street security guards. One listened patiently as he preached the Law and Gospel on a corner. What do you think was the outcome?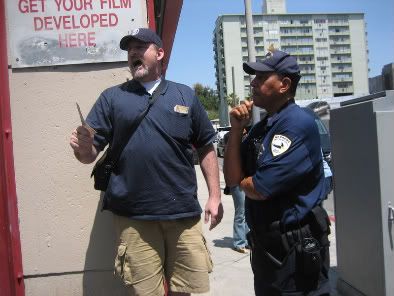 He listened… listened… very patiently listened…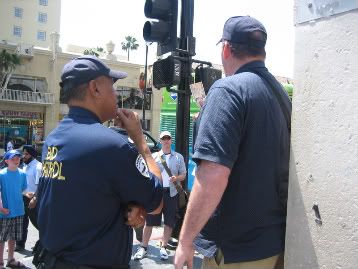 And his Security team also listened… listened… very patiently listened…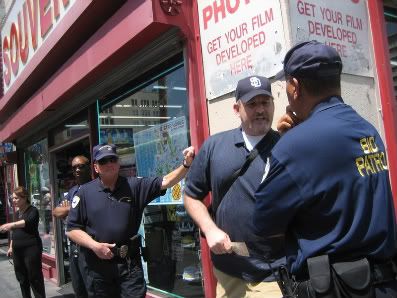 …as we were about to explain that we had a First Amendment right to preach on a street corner in Hollywood.
Believe it or not, they agreed! They only asked that we tone it down a little.
So we agreed!

 
Because "toning it down" is a very subjective opinion.
Click here to read of another evangelist being surrounded by the police!