EDIT: THIS VIDEO HAS NOW REACHED
WAY OVER 200,000 VIEWINGS
IN A FEW DAYS ON YOUTUBE!!!
I'm not kidding when I say this: I watched and fought back the tears.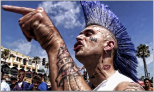 This is a video that will change multitudes of hearts, and more
importantly, save millions of babies' lives. You will be shocked as you watch how much our society has forgotten. Please invest 33 minutes of your time. It truly is a matter of life and death.
"I give my unflinching, joyful, trembling Yes to '180'. Unflinching, because it's right. Joyful, because it's good. Trembling, because this our defeated enemy is still vicious." —John Piper
"Riveting!" —Joni Eareckson Tada
Mind-blowing and unforgettable!" —Randy Alcorn