The Spirit of the Lord is on me, because he has anointed me to preach good news to the poor. He has sent me to proclaim freedom for the prisoners and recovery of sight for the blind, to release the oppressed, to proclaim the year of the Lord's favor. (Luke 4:18-19)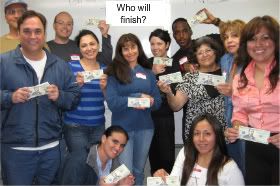 Here is the latest evangelism class. They are ready and willing to do what Jesus said he would do. Who will be in the picture at the end of the six week course? We are now entering into the fourth week and have seen a few drop outs already….
This is the place for you to write your own evangelistic adventure whether you are in my class or not. I may even publish it on the blog if it's really exciting or funny or horrible!