This is a free download of a very popular—and fun—Gospel tract! We adapted the "I. Q. test" which we usually use on a clipboard, and placed it in a tri-fold tract with plenty of get-away time.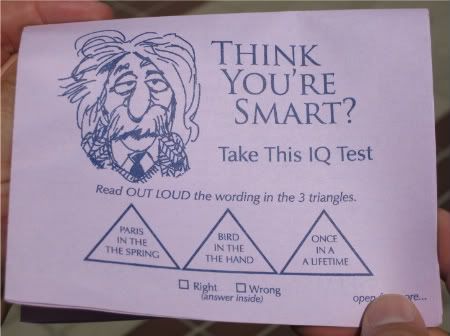 People really have a great time answering the fun "gotcha" questions…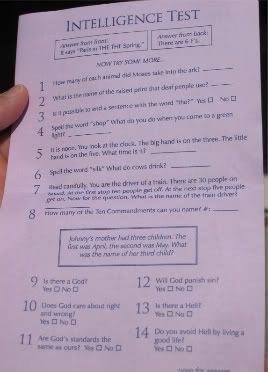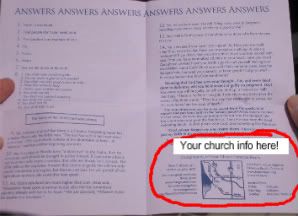 …and they really don't even know that it has anything to do with God until they open up the third fold because all the church information is hidden inside. (We left it blank so you can put in your own church info.) 
Click here to print it out. Then take it to Kinko's and make a thousand!
Evangelism has never been so much fun!!! O Boy!
R. A. Torrey (1856-1928) wrote this in his article "The Use of Tracts": Never be ashamed of distributing tracts. Many people hand out tracts to others as if they were ashamed of what they were doing. People are not likely to read tracts if you hand them to themas if you were ashamed to do it; but if you act as though you were conferring a favor upon them, and giving them something worth reading, they will read your tract. It is often well to say to a person, "Here is a little leaflet out of which I have gotten a good deal of good. I would like to have you read it."