I am thankful that you are a member of The Everyday Club. Given the sad statistic that 2% of Christians share their faith regularly, it's great to see others remaining faithful.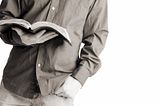 To help me stay faithful I make it a point to read my Bible every day, too.
I like the One Year Bible because each day's reading is broken up into four segments: One portion from the Old Testament, one portion from the New Testament, one from Psalms and another from Proverbs. I am currently reading the New Testament, Psalms and Proverbs.
Psalm 119:9-11:
How can a young man keep his way pure?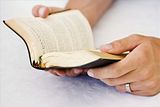 By guarding it according to your word.
  With my whole heart I seek you;
let me not wander from your commandments!
 I have stored up your word in my heart,
that I might not sin against you.
Job 23:12:
"I have not departed from the commands of his lips; I have treasured the words of his mouth more than my daily bread."
I like Ray Comfort's reminder mantra:
No Bible, no breakfast. No read, no feed. Bible before belly.
I have chosen not to eat until I read because that way I won't forget.
Bible teacher Kay Arthur said that the greatest enemy to regular Bible reading is Christian books.
What about reading Our Daily Bread regularly? Surely that counts, doesn't it?
The founder of that publication, M. R. De Haan, M.D. said this: "These articles in Our Daily Bread are not designed to be a substitute for the Bible; they are meant to stimulate your desire to read more of the Bible. If reading this booklet has caused you to neglect the Word of God, please throw this booklet in the wastebasket! If you're too busy to read the Bible, you're too busy. 
J. C. Ryle (1816-1900) wrote: "Here is one among many reasons, why we ought to be diligent
readers of our Bibles. The Word is the sword of the Spirit. We shall never fight a good fight, if we do not use it as our principal weapon. The Word is the lamp for our feet. We shall never keep the king's highway to heaven, if we do not journey by its light.
"It may well be feared, that there is not enough Bible-reading among us. It is not sufficient to have the Book. We must actually read it, and pray over it ourselves. It will do us no good, if it only lies still in our houses. We must be actually familiar with its contents, and have its texts stored in our memories and minds.
"Knowledge of the Bible never comes by intuition. It can only be obtained by diligent, regular, daily, attentive, wakeful reading. Do we grudge the time and trouble this will cost us? If we do, we are not yet fit for the kingdom of God."
And I love this quote from Charles Spurgeon: "There is dust enough on some of your Bibles to write 'damnation' with your fingers."
So, how about you? You evangelize every day. What is your Bible reading habit? I'm curious to know.
*****
Please write how you did on your evangelism commitment for August in the comments section below.
If you'd like to join The Everyday Club and get 30 free tracts a month, click here for info.