"You'd burn me at the stake!" the woman exclaimed, pulling open the collar of her shirt to reveal a Wicca medallion.

She interrupted the conversation I was having with two Starbucks employees after overhearing my question to them: "If God judged you by the Ten Commandments would be found guilty or innocent?"
The conversation almost didn't happen.
When I'm too tired or complacent, I just don't want to be bothered with the all the rigmarole of sharing the Gospel. But the lost are everywhere. And I will never know how God will use my words to affect a person's life.
I just read about Bobby Driscoll, the child star from Disney who was the model for James M. Barrie's mischievous Peter Pan, who also provided his voice for the animated film. I wonder if he ever had the chance to respond to Christ's call?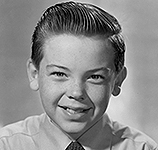 Bobby made his film debut at age 6 in 1943, and appeared in many Disney films including "Song of the South," "So Dear to My Heart," and "Treasure Island." He even won a special juvenile Academy Award in 1949.
Disney ended his contract after the release of "Peter Pan" two years before it expired. Bobby got married, had three kids, but Hollywood stopped calling. He became a drug addict, was arrested for drug possession many times, and also for assault and forgery. He spent six months in jail and was committed to a psychiatric hospital.
In 1968, two boys playing in a New York tenement found Bobby's dead body. He had died of a heart attack brought on by liver failure and advanced arteriosclerosis at age 31.
He was buried in a potter's field because he had no I.D. on him. A fingerprint match was made a year after his death and that's when he was identified. He remains buried in the potter's field on Hart Island.
I wonder what might have happened to Bobby if he responded to a Christian's concerned question regarding his soul by trusting in Christ?
I wonder what will happen to the witch at Starbucks, who heard very clearly what would happen to her if she continues in her ways?
It really is worth all the fuss and bother to share my faith…
…especially when I don't feel like it.