(Please click here to start at Part 1.)
We finished our business at Living Hope Christian Church by successfully teaching them how to share their faith without fear; they were now on fire with evangelistic zeal.
But we had one more goal in mind: The State Capital! We expected to see thousands gathered around the building protesting, sightseeing… and we were ready to preach to the multitudes with our sound system, Hellboy. 
It was not to be.
We were rained out. Nobody was anywhere near the Capital building except me and my two little girls.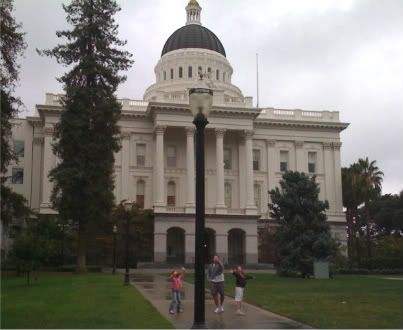 No worries. Another hair-brained evangelistic plan was hatched: Get an Arnold Schwarzennegger million dollar bill Gospel tract into the Governator's hands.
Who knows? Quite possibly, after reading the message on the back of the bill, he would govern righteously, honoring God and representing the citizenry more accurately. Maybe he would repent, then repeal the ghastly new Harvey Milk holiday he signed into law.
To sleep, perchance, to dream…
First, we had to think through an effective strategy….
One of the most common questions asked at the capital is this: "Is Arnold in today?" We asked it, too. A worker replied that he had spotted him earlier in the day. We were in luck. We streaked to the governor's office. But first, I paid homage to a great American.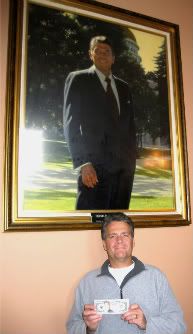 Outside the office, I was curious as to how often Mr. Schwarzennegger actually showed up, the fact being that he lives in Los Angeles and commutes to work. The friendly Mountie answered, "Nearly everyday."
Buoyed by this bit of good news, we asked if was in right now.
"I'm sorry, he isn't," Mr. Mountie answered. "But you can go into the office." We did.
Sort of.
We reached the outer reception area, where a secretary sat next to a burly Secret Service agent. My girls handed him the tract. "Will you please give this to Governor Schwarzenegger?" He assured us he would. If only, if only….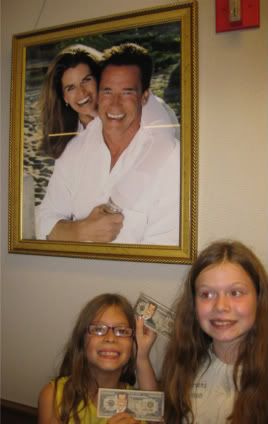 We didn't meet our goal this time, unfortunately; still, we thought about the future, the possibilities of our next visit. Oh! What potential! What blessing! What a great and glorious faith-filled journey it would be to attempt to get the Gospel into the State Capital of California!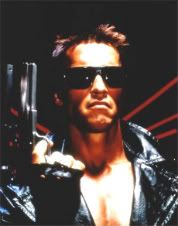 We'll be baa-ck!