Every day my alarm goes off at 6:17PM to remind me to pray for a list of people who need the Lord.
Why 6:17?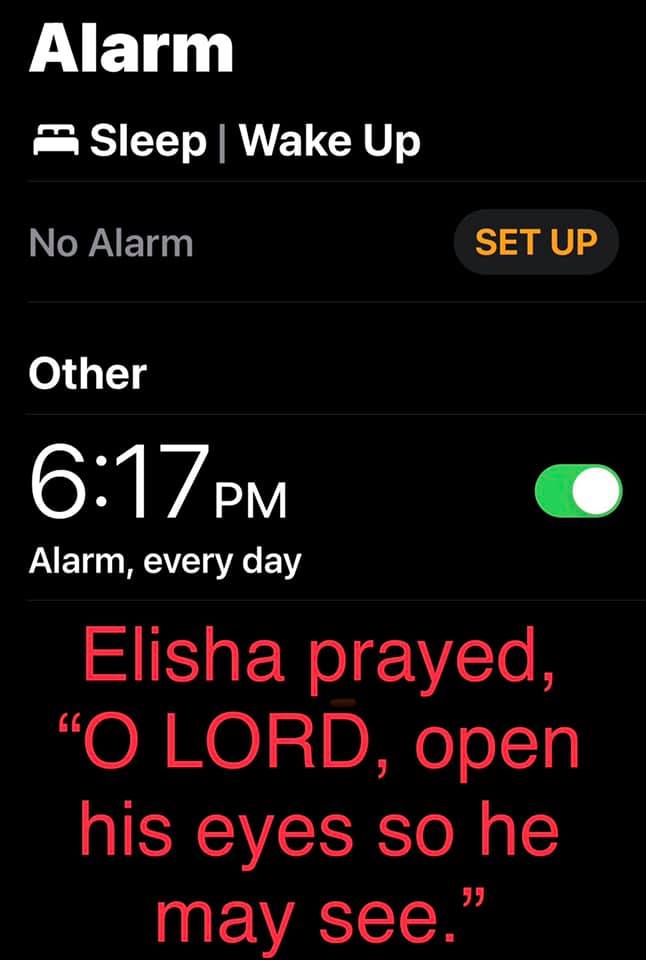 Because that verse is where Elisha prayed to the Lord that he would open his servant's eyes when they were overwhelmed by God's enemies.
His servant was panicked because the Syrians had surrounded them with an army of horses and chariots.
But Elisha, trusting in the Lord, said this: "Don't be afraid. Those who are with us are more than those who are with them.
Then he prayed the 6:17 prayer. What happened next?
"Then the Lord opened the servant's eyes, and he looked and saw the hills full of horses and chariots of fire all around Elisha."
How often do we fret and panic and worry because of a loved one who is blinded by Satan?
On my list, I have hardened atheists, backslidden friends, those living sinful lifestyles, obstinate sons and wives, and my own loved ones…and many more. Pray for them. Pray that God opens their eyes. Pray that God removes the scales so that they may see his glory.
We must pray. We must trust. We must persevere on their behalf until the Lord answers.