THIS WAS ORIGINALLY POSTED on August 25, 2011, so I edited it a little to bring it up to date.

It's been six years since we introduced these original tracts. (Read to the end for a special free offer.)

No other church has these; you can only get 'em at Hope Chapel, Hermosa Beach, CA. (and at Community Church of the Hills): The new Teddy Trillion Gospel tract!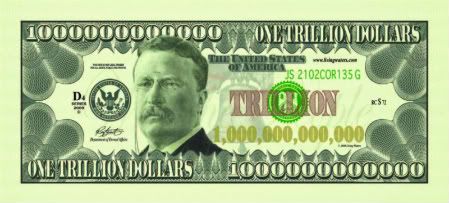 That's right. Theodore Roosevelt, our 26th President (1901–1909), is the latest famous figure to grace the front side of these wildly popular money tracts. Of course, he's famous for saying, "Speak softly, and carry a big…TRACT!!!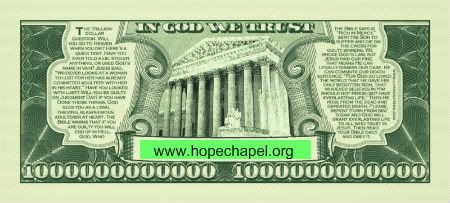 We ran out of our Million Dollar Bill Gospel tracts (we ordered 2 1/2 million). So, with permission from Living Waters Ministries, and with the skills of our church's talented graphic artist, Mike Faye (adapting Dale Jackson's work), we came up with this new one and ordered 2,026,000 of these.
Now here's the special offer:
If you'd like some of these for yourselves, send a self-addressed stamped envelope to:
Steve Sanchez
PO Box 1441
Johnson City, TX. 78636

I'll send you 10 Teddy Trillions to celebrate this new season of tract evangelism at our church.
Here are some more great evangelism-related quotes from Teddy:
"A thorough knowledge of the Bible is worth more than a college education."
"Do what you can, with what you have, where you are."
"Don't hit at all if it is honorably possible to avoid hitting; but never hit soft."
"Far and away the best prize that life has to offer is the chance to work hard at work worth doing."
"Get action. Seize the moment. Man was never intended to become an oyster."
"Great thoughts speak only to the thoughtful mind, but great actions speak to all mankind."
"I care not what others think of what I do, but I care very much about what I think of what I do! That is character!"
"No man is worth his salt who is not ready at all times to risk his well-being, to risk his body, to risk his life, in a great cause."
"Obedience of the law is demanded; not asked as a favor. "
And here's my favorite:
10. "Every reform movement has a lunatic fringe."
*****
Here's what the message on the back says:
The trillion-dollar question: Will you go to Heaven when you die? Here's a quick test.
Have you ever told a lie, stolen anything, or used God's name in vain? Jesus said, "Whoever looks at a woman to lust for her has already committed adultery with her in his heart." Have you looked with lust? Will you be guilty on Judgment Day?
If you have done those things, God sees you as a lying, thieving, blasphemous adulterer at heart. The Bible warns that if you are guilty you will end up in Hell.
God, who the Bible says is "rich in mercy" sent His Son to suffer and die on the cross for guilty sinners. We broke God's Law, but Jesus paid our fine. That means He can legally dismiss our case. He can commute our death sentence:
"For God so loved the world that He gave His only begotten Son, that whoever believes in Him should not perish but have everlasting life."
Then He rose from the dead and defeated death.
Please, repent (turn from sin) today and God will grant everlasting life to all who trust in Jesus.
Then read your Bible daily and obey it.
Save
Save
Save