Last week there was no small brouhaha concerning a posting about an anti-evangelism book by author John Shore called "I'm OK — You're Not: The Message We're Sending Unbelievers And Why We Should Stop".
The author responded with criticism that we were unfairly scrutinizing his book without having read it. However, in various interviews with the author, it was easy to determine that his book was unbiblical and heretical.
One couple, Dale and Anna Jackson, took John Shore's challenge, read the book, and were so appalled with the content that they created a website called HeresyWatchdog.com devoted to sniffing out the anti-evangelism heresy in this book.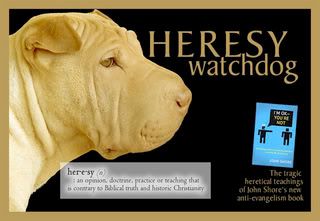 Check out the website here and read for yourself the review to make your own determination if what he has written is heretical or not.
If you still want to read the book, borrow it.
Read part 4 in this sordid series here.
In the meantime check out Dale and Anna (Banana) Jackson's Evangelism store!



Click here to see their wares.
Here are some other samples to peruse:


You may want to send some of these items to author John Shore.
But will he wear them?