My friend from Kentucky, Danny Allen, whom I met at the Hollywood Blvd. Evangelism Bootcamp several months ago, where we got chased by crazed Scientologist security guards, (see Hollywood Babble-On, Parts 1,2 & 3)sent me this. It is an unusual E-vangie Tale…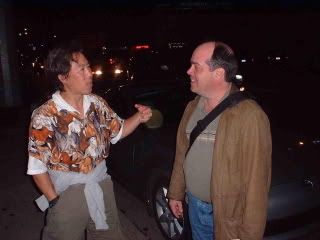 Last night I had the privilege to witness to Mark in my "fishing hole" in Louisville Kentucky on Bardstown Road.
When I asked him if he wanted a Million-Dollar bill Gospel tract he immediately knew what it was and that he wasn't a good person. He told me that his church hands these out. I was curious what church in our area was using "The Way of the Master." He then told me that he was from Los Angeles.
"Do you know Ray Comfort and his ministry Living Waters?" I asked. He said no. Puzzled a little I continued to question him. "Do you hand out these million dolar bills?"
He replied, "No… but my evangelism pastor from Hope Chapel does all the time."
I then HAD to ask, "What's the name of your pastor?"
"Steve Sanchez," he replied.
It is indeed a small world! I told him about our adventures in Hollywood and I gave him some material to read on the way back home: Mark Cahill's book, "One Thing You Can't Do in Heaven".
WOW! What a great God we serve. I just thought you might want to include this in your E-vangie Tales adventures.
(In the pic, Danny is wearing the brown jacket and a smile.)