THE UGLY

I'm not a sign guy and probably never will be.  But believe it not, I'm not against those who choose to hold signs when they share their faith, just those who do it with the wrong attitude or signage. Granted, there are many ways to preach the Gospel but some are better than others. My question for you this day is: How effective do you think the sign is below? (Start the series at part 1 by clicking here.)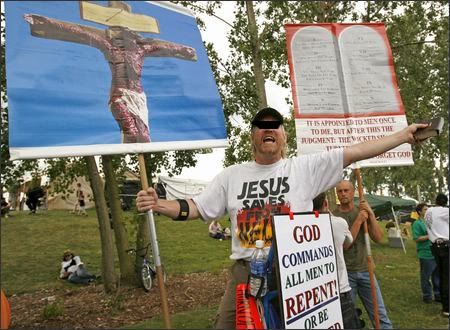 I think this sign is in extremely poor taste, but I'd like to hear your perspective. Does an image of a bloody, flayed, pulverized man on a cross say anything to you? Does this really help to get the Word out in public settings? Click here to see a close up of this entirely gross, and I think pointless, way to proclaim the beauty of God's Savior. WARNING: EXTREMELY GRAPHIC!
These sign-holders have their reasons for doing this. In all fairness you can read those reasons by clicking here.
CLICK HERE TO READ ABOUT THE "UGLY"
SIGN GUYS IN PART 8 OF THIS SERIES.