In American culture too many people have admired the slapstick humor of The Three Stooges. These bumbling knuckleheads have promoted great guffaws among the populace with their illogical antics and silly pratfalls; their inane arguments and solutions to difficult situations have elicited great gasps of mass hilarity.
But that was for another time.
For these modern days we now have a triumvirate who are a bit more inventive in their approach to life and how it all works out. These men are very wise to the educated, models of inspiration for a new age and a more enlightened way of thinking. Who are these Mighty Men?
#1: Richard Dawkins (Oxford professor)
(Cue the laugh track) He wrote: "Evolution is a fact. Beyond reasonable doubt, beyond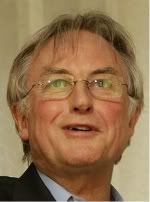 serious doubt, beyond sane, informed, intelligent doubt, beyond doubt evolution is a fact. The evidence for evolution is at least as strong as the evidence for the Holocaust, even allowing for eye witnesses to the Holocaust."
"It is a plain truth that we are cousins of chimpanzees, somewhat more distant cousins of monkeys, more distant cousins still of aardvarks and manatees, yet more distant cousins of bananas and turnips … continue the list as long as desired."
Let's here it for Professor Turnip!
#2: Stephen Hawking (theoretical physicist)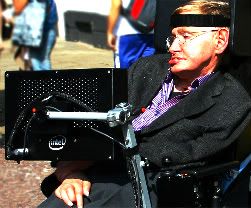 (Notice the Applause sign, please.) He said, "I have lived with the prospect of an early death for the last 49 years. I'm not afraid of death, but I'm in no hurry to die. I have so much I want to do first. I regard the brain as a computer which will stop working when its components fail. There is no heaven or afterlife for broken down computers; that is a fairy story for people afraid of the dark."
Of all the gifts God gave this brilliant man, wisdom was not one of them.
Last but not least, is a man who continues to waste everyone's time and money with frivolities. He is none other than…
#3: Michael Newdow (litigious lawyer)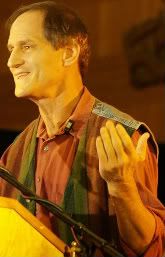 (Wild applause) "As I'm standing in line, I'm looking at the twenty dollar bill, and it says 'In God We Trust.' What the heck is this doing here?  It just had never hit me.  I looked at the ten dollar bill. 'In God We Trust.'  And the five and the one and all the change.  I thought, 'What is going on here?  I don't trust in God.  I'm an American.'"
"We have religious freedom, and the government's supposed to stay out of that business. Every American's fundamental rights have been infringed here."
Newdow has challenged the use of "In God We Trust" on U.S. currency. He lost. He had also sought to stop the chief justice of the nation's highest court from including "so help me God" when swearing in U.S. presidents, claiming the reference to God infringes on his beliefs. The court refused to hear his case.
In the Wizard of Oz the Cowardly Lion needed courage, the Scarecrow a heart and the Tin-man a brain. These three also need a little help. I'll leave it to you to decide who needs what.
"Although they claimed to be wise, they became fools…"
(Romans 1:22)
*****

Sources: