For years now, the atheists at this blog have been clamoring for proof of God, the existence of Jesus Christ, the veracity of the Bible, etc; so I have decided to provide an occasional series on Atheist Tuesdays concerning the evidences that most Christians see as reason enough to believe.
Now, I must confess that I did not come to faith in Jesus Christ because of evidence or proof. I came to him because I was at the end of my rope, ready to lose everything. I heard a message at a Christian 12 step program at my church that explained how I was a sinner, how I deserved Hell, and how I could be forgiven by repenting of my sin and putting my trust in Jesus Christ who suffered and died on a cross, was buried for three days and rose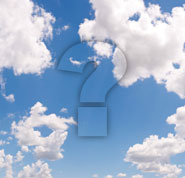 again. And I believed it! (You can watch, hear or read my testimony by clicking here.)
I understand that there will be many who refuse to believe. Even after I present these evidences—and more after—even then they won't be good enough. Nevertheless, here is the first batch. These come from my friend Tony Yu (The JW Preacher), who has a blog called "Systematic Evangelism."
Below is the cover of his new tract. Click "Read the rest of the entry" to examine the evidences he presents. I will provide the link for you to read the remainder so that you may critique the validity of his tract at the end of the post. Go for it atheists!
Now for some of the evidences:
 Who is God?
How can we know who God is? We can know who God is because only God can tell the future before it happens. Only the God of the Bible has ever foretold the future perfectly, over and over again. This is called fulfilled prophecy.
1. The Virgin Birth of Jesus: Therefore the Lord Himself will give you a sign: Behold, the virgin shall conceive and bear a Son, and shall call His name Immanuel (which means God-Is-With-Us). ~ Isaiah 7:14 Foretold 700 years before Christ
Fulfilled in Matthew 1:23: "Behold, the virgin shall be with child, and bear a Son, and they shall call His name Immanuel," which is translated, "God with us."
2. The Crucifixion of Jesus: For dogs have surrounded Me; The congregation of the wicked has enclosed Me. They pierced My hands and My feet. ~ Psalm 22:16
Foretold 1,000 years before Christ Fulfilled in Luke 23:33. And when they had come to the place called Calvary, there they crucified Him, and the criminals, one on the right hand and the other on the left.
3. Gambling for Jesus' Clothes: They divide My garments among them, And for My clothing they cast lots. ~ Psalm 22:18
Foretold 1,000 years before Christ Fulfilled in Luke 23:34. Then Jesus said, "Father, forgive them, for they do not know what they do." And they divided His garments and cast lots.
4. Jesus Betrayed for Thirty Pieces of Silver: So I took the thirty pieces of silver and threw them into the house of the LORD for the potter. ~ Zechariah 11:13
Foretold 500 years before Christ Fulfilled in Matthew 27:3, 5. Then Judas, His betrayer, seeing that He had been condemned, was remorseful and brought back the thirty pieces of silver to the chief priests and elders…Then he threw down the pieces of silver in the temple and departed, and went and hanged himself.
5. Beaten, whipped, spat on: I gave My back to those who struck Me, And My cheeks to those who plucked out the beard; I did not hide My face from shame and spitting. ~ Isaiah 50:6
Foretold 700 years before Christ Fulfilled in Matthew 26:67. Then they spat in His face and beat Him; and others struck Him with the palms of their hands.
6. God becomes a man: For unto us a Child is born, Unto us a Son is given; And the government will be upon His shoulder. And His name will be called Wonderful, Counselor, Mighty God, Everlasting Father, Prince of Peace. ~ Isaiah 9:6
Foretold 700 years before Christ Fulfilled in John 1:1, 14. In the beginning was the Word, and the Word was with God, and the Word was God. And the Word (God) became flesh and dwelt among us…
Continue to examine the rest of the evidence at Tony's blog by clicking here.
*****