I WALK WITH A LIMP.
They say it's arthritis, but more likely, it's from years of wrestling with God.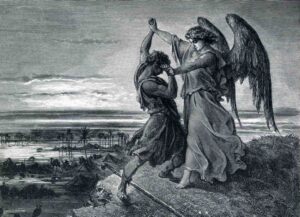 "Grown up pastors walk with a limp," writes Jerod Wilson. "They've had their feet knocked out from under them at some point and discovered that God is still good all the time. Grown up pastors know that the gospel is the only power to save, and that it is of first importance, so in their maturity they've grown weary of putting on airs or putting on shows or putting on millstones."
I'm still growing up.
I wrestle with how to preach the Word so more will accept and obey it, but God says that salvation is from him. I wrestle with sin and want God to take it away, but he says to repent. I wrestle with people when misunderstood or call my motives into question, but God says to entrust myself to him who judges justly.
How do I know he says those things? Because of his Word. God's primary method of wrestling with us is found in the Bible. We may not like what he says, but at least we know what he says. Do you? Get alone with him. Today. Every day. And wrestle. If His followers spent more time alone with him, we'd have spiritual giants again. Wrestling champions.
Remember how often Jesus went to be alone with God? Do you recall how he wrestled with his Father at Gethsemane and sweat great drops of blood? How about when he wrestled the devil in the desert for 40 days and 40 nights? He never limped away.
Elijah and Elisha performed great miracles when alone with God. The Lord came to Joshua when he got alone with him (Joshua 1:1). When commissioned to save Israel, Gideon and Jephthah were by themselves (Judges 6:11; 11:29). Moses was by himself at the burning bush (Ex. 3:1–5).
Cornelius was praying all by his lonesome when the angel of God came to him (Acts 10:1–4), as was Peter on the housetop when he was instructed to go to the Gentiles (Acts 10:9–28). John the Baptist was solitary in the wilderness (Luke 1:80). John the Beloved was by himself on the island of Patmos when he was the closest to God (Rev. 1:9).
Earnestly desire to get alone with God. If we neglect to do so, we not only rob ourselves of a blessing but rob others as well, since we will have no blessing to pass on to them. The impact of being alone with God in prayer and His Word cannot be overemphasized.
Get alone with God and his Word. If you read 3.25 chapters a day, you will have read your Bible in a year. One chapter of the New Testament a day will get you finished in 8 months. When will be your next wrestling match?
"So Jacob was left alone, and a man wrestled with him till daybreak. When the man saw that he could not overpower him, he touched the socket of Jacob's hip so that his hip was wrenched as he wrestled with the man. Then the man said, 'Let me go, for it is daybreak.' But Jacob replied, 'I will not let you go unless you bless me.' The sun rose above him as he passed Peniel, and he was limping because of his hip." (Genesis 32: 24-31)
A sign of maturity in the Christian life is to realize it's not about you. Wrestling with God proves it. But foolish me, I will continue to wrestle and limp along.
John Wimber, founder of the Vineyard Movement, said, "Never trust a leader without a limp."
Trust me.
(Inspired by "Streams in the Desert.")