So what do you do? What can you say to an atheist who will not let you speak, ridicules your beliefs, laughs at your claims and is an obvious adherent to the godless philosophies of New Atheism as put forth by  Hitchens, Dawkins and Harris? Watch this video. It's the only way to counter the counter-evangelists. (This is part one of a multi-part series that will  continue next week called "Of Pagans, Pearls and Pork.")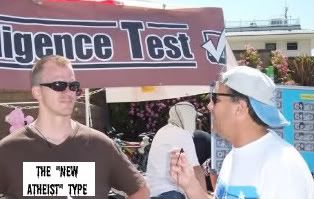 Here's a review from one YouTube commenter: This is hilarious and sadly pathetic. The atheist is actually MAKING POINTS using valid arguments, and all the Christian is doing is preaching biblical myths and making baseless assertions without providing any empirical evidence to support his fictional babble. Typical. Why would you even upload a video of yourself being intellectually dominated and horrendously making a delusional fool of yourself? And, you have the nerve to talk about *reason*? Wow.
Worker Demoted for Discussing Intelligent Design
The Alliance Defense Fund has filed a complaint against Cal Tech's Jet Propulsion Laboratory (JPL) in a case involving freedom of speech in the workplace. A NASA specialist working for JPL was demoted and threatened with termination for discussing Intelligent Design with willing co-workers. Read the rest here.