Take a look at the picture below. Do you agree? Is God truly non-partisan?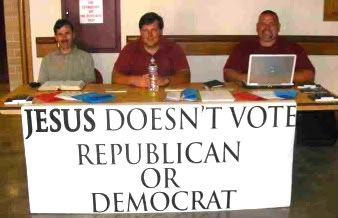 Maybe the sign guys pictured above are not entirely correct…. To find out what the Bible has to say, click here: Ecclesiastes 10:2.
Here's a re-post of Gubernatorial candidate Steve Poizner getting a $100 bill Gospel tract at the Tet Parade. Maybe he read it and believed!
If you are a California values voter and are not sure about who to vote for, especially when it comes to those sneaky and elusive judges, then go to the ElectionForum.org to get more info so that you can make an informed choice. Remember The Who and that famous line: "We won't get fooled again!"