The "180" movie has impacted my life greatly. As a result of seeing it, I took my two young daughters to an abortion clinic in Long Beach, one of the largest murdering mills in the country I understand, and learned a little about how to start a pro-life ministry. Read about our visit by clicking here.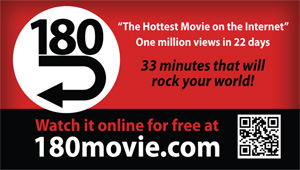 I then reflected on this issue and wrote a personal testimony about how this issue affected my life in the past. (Read that article here.)
If you haven't yet seen the film then click here to watch.
Here's another reason why it needs to be seen…
EDIT: Read this article entitled "The Consequences of Evolutionary Racism" by clicking here.