Here's an interesting phenomenon that's happening in London as reported by the BBC. But some protest that this is not a church. Still, "A rose by any other name…."
A congregation of more than 300 crowded into the shell of a deconsecrated church to join the celebration on Sunday morning.
Instead of hymns, the non-faithful get to their feet to sing along to Stevie Wonder and Queen songs.
There is a reading from Alice in Wonderland and a power-point presentation from a particle physicist, who explains the origins of antimatter theory.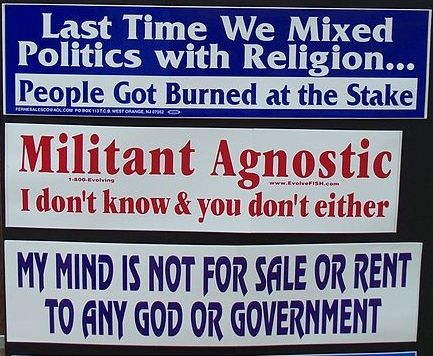 The audience – overwhelmingly young, white and middle class – appear excited to be part of something new and speak of the void they felt on a Sunday morning when they decided to abandon their Christian faith. Few actively identify themselves as atheists.
"It's not a church, it's a congregation of unreligious people."
[One writer] argues for a new breed of secular therapists to take the place of the priesthood and believes atheism should have its own churches, but adds: "It should never be called that, because 'atheism' isn't an ideology around which anyone could gather. Far better to call it something like cultural humanism." Read the rest here, then come back and tell me if this is a church.