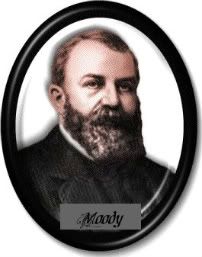 WOW! What an encouraging overview of D. L. Moody's life this short article presents. Take 15 minutes and read the practical tips offered on how this faithful man made it his life's work to deal with sinners personally.
This article is by Faris Daniel Whitesell and was originally published under the title "Great Personal Workers." Copyrighted in 1956 by Moody Bible Institute and is now public domain.

The dying nineteenth century recorded the death of one of its greatest men. Dwight Lyman Moody (1837-1899), world-renowned worker for Christ, went to be with his Lord on December 22, 1899. From the life of this humble man rivers of living water had streamed out to bless America, Great Britain and the world.
Acclaimed by many as the leading platform evangelist of the century, famed as the founder of Christian institutions, prominent as a Sunday school and YMCA worker, D. L. Moody also held highest rating as a personal worker. He wrote no books on personal evangelism, but numerous references in the D. L. Moody literature prove that he was a practical and persistent personal evangelist and that he inspired many others to engage in this work. That he gave top priority to personal soul-winning as a Christian responsibility there can be no doubt.

It is said that in holding special meetings for the conversion of his fellowmen, Mr. Moody has traveled over 1,000,000 miles, has addressed over 100,000,000 persons – 25 million of whom were young people – and has dealt personally with nearly 750,000 individuals. Click here to read the rest.