DO YOU SERIOUSLY THINK GOD CAN'T USE YOU?
Moses had anger issues, stuttered, and murdered a man, yet he was God's chosen vessel to deliver his people from their enemies.
Also, remember that Noah was a drunk…
Abraham was too old…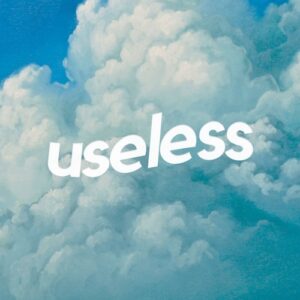 Jacob was a liar…
Leah was ugly…
Joseph was abused…
Gideon was fearful…
Samson was a backsliding womanizer…
Rahab was a prostitute…
Jeremiah was too young…
David was an adulterer, a murderer, and a negligent father…
Solomon forgot God…
Elijah was depressed and suicidal…
Jonah was a bigot and ran from God…
Naomi was a widow…
Job lost everything…
Matthew worked for the I.R.S….
Peter denied Christ…
The disciples were clueless, argumentative, prideful, had little faith, and failed Jesus at his darkest hour…
Martha had her priorities all wrong…
The Samaritan woman had lived with five men out of wedlock…
Zacchaeus was a cheat…
Paul was a blasphemer and a persecutor and a violent man…
LAZARUS WAS DEAD! 
"Brothers and sisters, think of what you were when you were called. Not many of you were wise by human standards; not many were influential; not many were of noble birth. But God chose the foolish things of the world to shame the wise; God chose the weak things of the world to shame the strong. God chose the lowly things of this world and the despised things—and the things that are not—to nullify the things that are, so that no one may boast before him. It is because of him that you are in Christ Jesus…." (1 Corinthians 1:26-30)
So, get off your butts, trust God, and do something! God didn't save you to just go to church, sit in a pew, listen, and leave. Yet there are many who profess Christ who don't even do that.
Jesus told this parable: "A farmer went out to sow his seed. As he was scattering the seed, some fell along the path, and the birds came and ate it up. Some fell on rocky places, where it did not have much soil. It sprang up quickly, because the soil was shallow. But when the sun came up, the plants were scorched, and they withered because they had no root. Other seed fell among thorns, which grew up and choked the plants. Still other seed fell on good soil, where it produced a crop—a hundred, sixty or thirty times what was sown. (Matthew 13:3-8)
He expects us to be good dirt, producing something.
Some don't understand God's Word, so they don't obey ever. Others get excited about Jesus, worship, and fellowship, but don't read the Bible, so when stuff hits the fan, they fall away. Still others hear God's Word, get distracted with the worries of this world or make a lot of money and forget their allegiance to Christ, producing nothing.
What type of soil are you based on these concentric circles?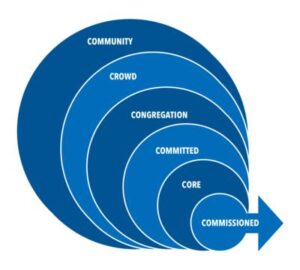 To be good dirt, you must be in a fellowship of believers. (Hebrews 10:24-25) Read this and take one step this year into another circle to become excellent mulch:
If you are in the "COMMUNITY," you are not entirely committed to Christ. You may visit church occasionally but haven't decided to follow Jesus fully.
Are you part of the "CROWD"? You may attend a fellowship once or twice a month but aren't much more involved beyond that.
Those in the "CONGREGATION" attend regularly, give faithfully, and support the vision and values of the church.
The "COMMITTED" are members who are growing in their relationship with Jesus, establishing the disciplines of a disciple, and progressing spiritually, serving in various ministries.
The "CORE" take responsibility for leadership in the church.
The "COMMISSIONED" are living out the Great Commission, making disciples, baptizing them, and teaching them to obey everything Jesus commanded (Matthew 28:19-20). They are active in reaching out to their community, sharing the Gospel, sharing their lives, and inviting people to church.
What next step will you take in to produce an abundant crop this year?
Whoever has ears, let them hear.