"SHUT UP! SHUT UP! NO ONE IS LISTENING!"
That was just one of the responses the evangelism team elicited at the USC/Stanford pre-game tailgate party held on the grounds surrounding the L.A. Coliseum. We encountered an irritated security guard, not a few sneers, and even a testy confrontation with the police! My wife was scared just looking at some of the pictures I showed of this event.
The contest ended with Stanford winning 24-23 over the Trojans in "one of the great upsets in college football history."
But nine evangelists upset—and encouraged—a significant percentage of the 87,000 in attendance before the game had even started…
The strategy was simple: Stand at the traffic signal near the entrance to the University of Southern California and witness to the fans as they crossed the street over to the Coliseum. When the light turned red, BAM! an instant concregation all dressed up for their church in red and yellow, I mean cardinal and gold outfits.

Immediately, I jumped on my milkcrate and delivered an exploratory 90 second sermonette, taking a small crowd through the 10 Commandments, warning of Judgment Day and Hell—then pleading for them to repent and trust in the Savior.
Not to be outdone, old-timer Barry Felis, who's been evangelizing 30+ years, hopped on the box after me. Notice that he's waving our custom designed red and yell—uh, cardinal and gold, USC tract (freely available at Living Waters here).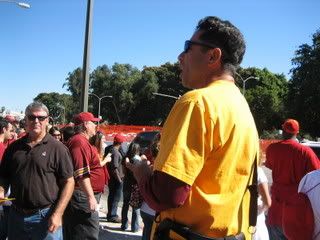 "Righteous" Richard Chavarria, dressed in his cardinal and gold colors (it's vitally important to dress right), was next. Unfortunately, he forgot the cardinal rule of open air/stoplight preaching: Take off the sunglasses. People want to see your eyes when you preach, even when they aren't paying any attention.
As the crowd started to swell, we rotated our preaching assignments.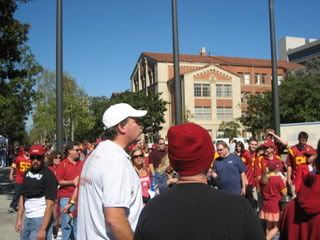 I got up on the box again…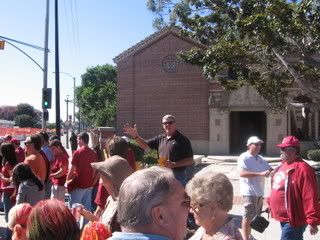 …then Barry…
…then Richard… rotating the preaching… me… then Barry… Richard… While one preached, the others handed out tracts: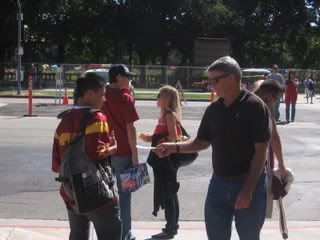 Million dollar bills and custom USC tracts…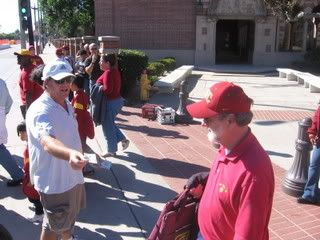 …hundreds, thousands of them given away.
Some of the team just handed out tracts, like Steve Davis.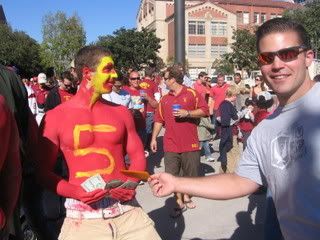 In the 19th century, Charles Spurgeon said that Gospel tracts are "adapted to those persons who have but little power and little ability, but nevertheless, wish to do something for Christ. They may not have the tongue of the eloquent, but they have the hand of the diligent."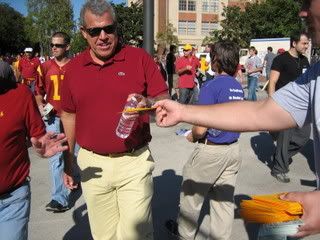 Steve Davis had this type of hand, as did three others on our team.

The crowd was starting to get enormous now, so large in fact, that the police directed the traffic and let people ignore the stoplights completely.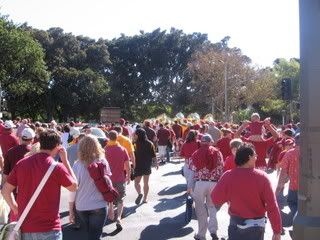 What could we do now, besides just hand out tracts? A solution: Barry brought along his "Half-Mile-Haler," a portable sound system that could hale a crowd up to a half mile distance. We turned it on and preached to the passing crowd, knowing that God's Word never returns void. Maybe they would hear only a Scripture verse, a plea, a warning—they might even consider fleeing the wrath to come—as they herded past us like wildebeests in a National Geographic special, like lemmings rushing headlong over a cliff.
At this point, a few drunken knuckleheads thought it wise to plough through the crowd in a golfcart.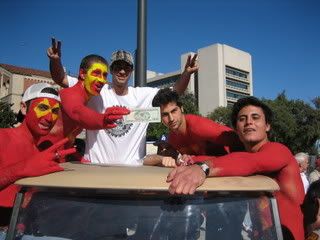 Security and the Sheriffs were all over them…

…like red on skin?
Make way! Make way! The SC marching band was coming through!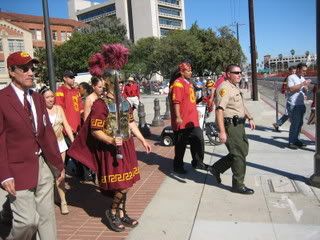 We did our best to cause them to break formation—million dollar bill style!

Tatsuo Akimine, our daily DMV preacher showed up a little late…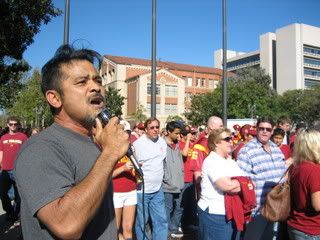 … grabbed the mike and preached on and on. Behold the masses!!!
You'd think that some football fetishists would get angry at all this fundamental foolishness, but no…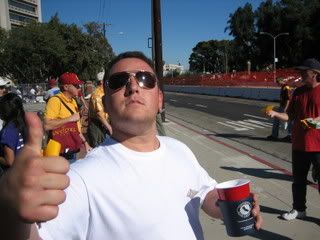 …it was all thumb's up from some quarters.
Two young Asian students came up to us and stated, "You preaching? We're praying!"

They hunkered down and started praying fervently for our efforts, until I stopped them. "Okay, enough praying. Help us by handing out these tracts!" They did.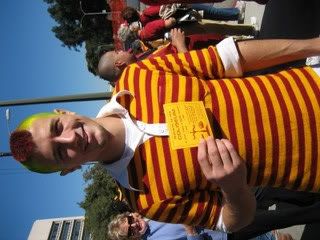 Some appreciated our efforts and our literature…
Others didn't.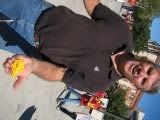 The crowd was now a massive mob, moving inexorably toward its destination at the Coliseum. They were moving too fast for us to preach to; we had to do something radical. "Let's go to the lines entering the Coliseum," I shouted. "They'll be backed up hundreds deep! We'll preach there!" We packed up everything and rushed to the lines. They weren't hundreds deep; they were thousands deep!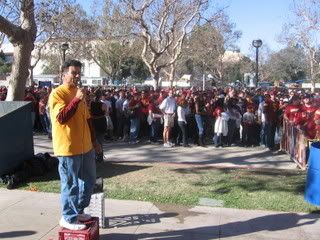 And that's when we encountered the police!