LITTLE RICHARD DIED TODAY. Did he go to Heaven or Hell?
He was one of the fathers of rock 'n roll and described himself as an "omnisexual" where he gloried in a life of pervert practices that included orgies with men and women. Rolling Stone magazine said that his "fervent shrieks, flamboyant garb, and joyful, gender-bending persona embodied the spirit and sound of that new art form."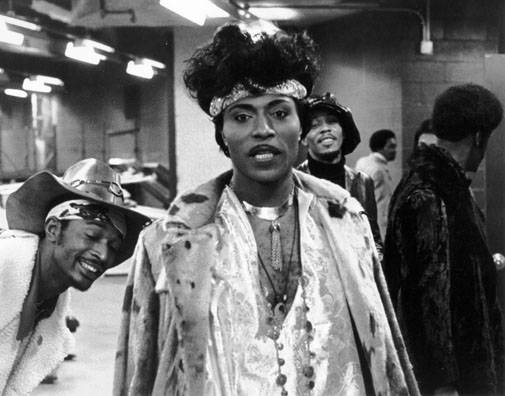 Known for such hits as "Tutti Frutti," "Long Tall Sally," "Lucille," and "Good Golly Miss Molly," Elton John was even influenced by him: "I heard Little Richard and Jerry Lee Lewis, and that was it. I didn't ever want to be anything else. I'm more of a Little Richard stylist than a Jerry Lee Lewis, I think."
The Beatles recorded his songs as did such diverse bands as the Everly Brothers, Creedence Clearwater Revival, the Kinks and Elvis Costello. His style even influenced Prince. As he told Joan Rivers in 1989, "Prince is the Little Richard of his generation. I was wearing purple before you was wearing it," he said, as he looked straight into the camera.
He gave up rock 'n roll in 1957 to become an ordained minister after experiencing many signs and a dream about his own damnation and the end of the world.
He made a comeback in 1964 and while playing in Hamburg, the Beatles opened for him. John Lennon said, "We used to stand backstage at Hamburg's Star-Club and watch Little Richard play. He used to read from the Bible backstage and just to hear him talk we'd sit around and listen. I still love him and he's one of the greatest."
In the '70's he backslid, smoking marijuana, and becoming addicted to cocaine.
And he admitted to his sexuality: "I love gay people. I believe I was the founder of gay," filmmaker John Waters quoted him as saying. "I'm the one who started to be so bold tellin' the world! You got to remember my dad put me out of the house because of that. I used to take my mother's curtains and put them on my shoulders. And I used to call myself at the time the Magnificent One. I was wearing makeup and eyelashes when no men were wearing that. I was very beautiful; I had hair hanging everywhere. If you let anybody know you was gay, you was in trouble; so when I came out I didn't care what nobody thought. A lot of people were scared to be with me."
But then he denounced the gay and trans lifestyles in 2017 at age 84, during an interview with the Three Angels Broadcasting Group. "God, Jesus — He made men, men. He made women, women, you know? And you've got to live the way God wants you to live. So much unnatural affection. So much of people just doing everything and don't think about God."
In the biography of his life written by Charles White, Little Richard said this: "You know, all these things. So much unnatural affection. So much of people just doing everything and don't think about God. Don't want no parts of Him.
You've got to live right now in Jesus. He's a real Savior and the Prince of Life. Regardless of whatever you are, He loves you. I don't care what you are. He loves you and He can save you. All you've got to do is say, 'Lord, take me as I am. I'm a sinner.' But we all have sinned and come short of the glory of God. The only holy, righteous person is Jesus and He wants us to be just like Him because, in order to go to Heaven, we've got to look like Him.
"I don't want to sing rock and roll no more. …I want to be holy like Jesus. Give everything you've got to Jesus, and oh, you'll feel so much better.
"I want to show the world that I know a man that created everything. I know a man that gave his life that I might have a right to the tree of life."
(Sources: Rolling Stone; CBN News)