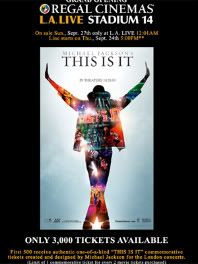 I read that the L.A. Live theater complex in downtown L.A. was offering advance tickets to the documentary, "Michael Jackson's This is It!" in the L.A. Times Thursday morning. And here's the cool part:
[They are] anticipating quite the crowd to descend on the downtown complex this weekend. The line will officially open at 5 p.m. Thursday, and tickets will go on sale just after midnight on Saturday night/Sunday morning.

L.A. Live is the only screening location that will offer the commemorative tickets. There is a two-ticket limit per person, and buyers can receive only one commemorative ticket.

Parking for those camping out is free, and we're told that "music will be provided." The tickets for the initial preview screenings at L.A. Live will be sold only in person.
Then I got real excited when I read this from the Newser:
The winding queue for tickets to the first public screenings of the documentary opened late Thursday afternoon in the courtyard outside the Nokia Theatre at the L.A. Live complex in downtown Los Angeles. The film features a behind-the-scenes look at Jackson preparing for the series of London shows he was rehearsing for before he died June 25.

"I've never done something like this in my life," said Rubio, 53, "but M.J. is worth it."
Visions of my evangelism experience at the American Idol Finals line filled my mind.

Thousands in line! Thousands who need to hear the Gospel.
That's why we are leaving at 1:15PM today.
See what happened when we got to the ticket line by clicking here for Part 2!