Corbin Bernsen got one; Louis Gossett Jr. did, too.
What did they get? Giant Money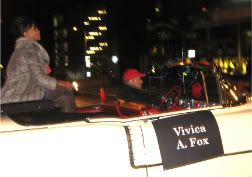 Gospel tracts at the Hollywood Christmas Parade where our evangelism team braved the elements  (45 degrees with howling winds) to get the Word out to the thousands on the sidelines, and to those who sometimes make the headlines. (Click here to read the 12 Step Program for evangelizing at Parades.)
Ready to get starstruck? Here we go with some exciting candid photos of up-and-coming semi-celebrities that TMZ most certainly would ignore, but not us.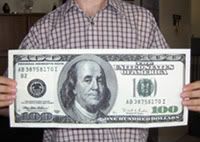 Wow! My daughter gave a tract to either Boo Boo Stewart (Who? Movie: Eclipse. We have a dog we call Boo Boo) or Jason Earles, who plays the brother of Miley Cyrus on Hannah Montana. (Hey! I had to Google these guys to figure out who they are. Really.)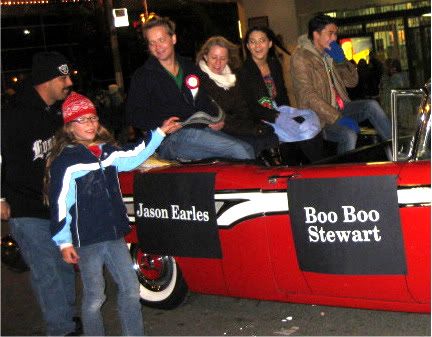 Ione Skye is intently reading the tract I gave her. Remember her from the film "Say Anything"? I figured not.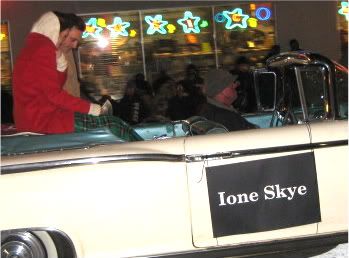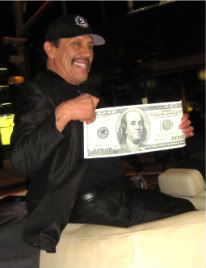 Wow! It's Danny Trejo from the "Spy Kids" movies…and many more! According to IMDb he was a child drug addict, and a criminal who was in and out of jail for 11 years. According to his Wiki bio Trejo often speaks in front of youth groups and at colleges and encourages young people to avoid making the mistakes he did while growing up. Maybe he'll read the tract, believe, and make a real difference in the world someday. I sure hope so.
And this is the main reason why it's a good thing to hand out Gospel literature to celebs: If they get saved, they can use their  celebrity to pass on the good news of the Gospel. Look what happened to Kirk Cameron. It is possible, ya know.
Not to be out done by her little sister, my other daughter gave her Giant Money to…HEY! (All together now… "Who are those guys?") You Google 'em.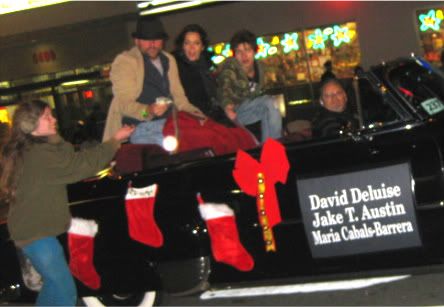 The host of "The Bachelor" got one as well. Folks, don't think less of me because I'm in these photos.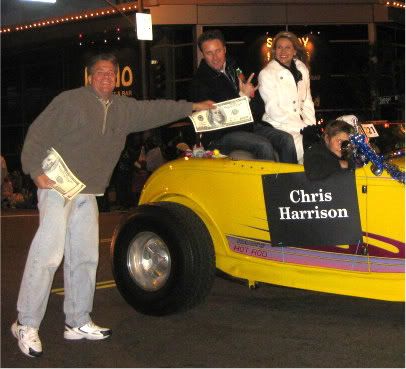 I have no idea who this is, do you?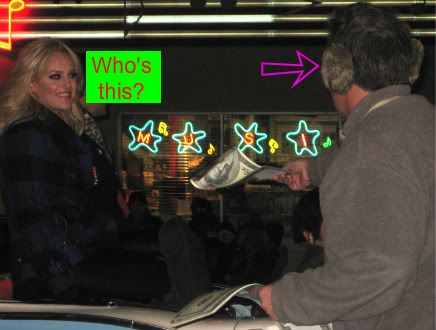 My daughter was concerned about the ear muffs I was wearing because they were my wife's. I told her not to worry because we were in…Hollywood. Hooray!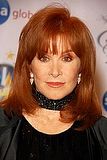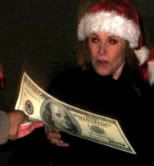 Even old-time stars like Stephanie Powers had the opportunity to receive eternal life.
She's been on tons of TV shows from "Bonanza" to "The Man from U.N.C.L.E." to "It Takes a Thief," all shows I watched as a kid, and I'm over 50!!!
No matter how old, how famous, how bad or how good you are, Christ always offers forgiveness to those who humble themselves before His mighty hand. Our hope, after handing out thousands of Gospel tracts at this parade, is that many would turn to their Savior, the Savior for which this parade is named.
Tomorrow, see the youngest evangelist ever, probably in the history of the world, who helped us out at this parade.
We're going to two more parades this weekend. Click here for details if you'd like to come.

See the celebrities from last year's parade by clicking here.