The famous Christian author who died on November 15, 1917, wrote only one book, a book that most of his readers never heard of, but is famous for another book entirely, is none other than…
Oswald Chambers!
The book Chambers wrote before he died was named: "Baffled to Fight Better." Ever hear of it? Neither have I. Yet his wife Biddy, a trained court stenographer took down word for word hundreds of messages that Chambers had delivered at colleges and military camps.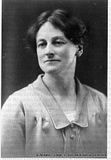 Ten years after her husband's death she published his edited messages in a devotional of 365 daily readings called, "My Utmost for His Highest," still one of the top ten Christian titles sold every year.
Never once mentioning her own name, Biddy edited twelve more books and published them under the name of her beloved husband. (Some material excerpted from "The One Year Book of Christian History" by E. Michael and Sharon Rusten)