Because of an atheist's video I was able to be interviewed on a secular radio station in St. Paul, Minnesota about the "Origin of Species" book

give-away on college campuses.
You can listen here to Patrick Reusse and Co. at am15000 KSTP. It's at the very start of the show. (Just you wait, the evolutionists will say that I misrepresented their case.)
Because of an atheist's video, my blog doubled, tripled, even quadrupled in visits last week! And they continue….
Because of an atheist's video, over 260,000 people saw a few portions of my interview with Ray Comfort, further promoting the special 150th anniversary edition of Darwin's "Origin of Species" with an introduction that includes the Law and Gospel.
So, just who is this atheist that I'm thankful for?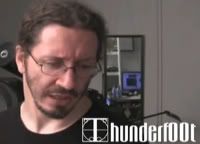 His name is Thunderf00t.
He saw my interview with Ray, cut it up, ridiculed it, posted it on YouTube and… furthered the Gospel message!
Who woulda guessed?
Thank you for all your efforts! And welcome to all the evolutionist/atheists who have visited so far. I appreciate you all! XXXXXOOOOOXXXO!