Darione Page, a 17-year-old black youth, was shot multiple times while waiting at a traffic light at the intersection in South-Central L.A.  on Jan. 28. According to detectives with LAPD's South Bureau, a black male suspect approached Page from the passenger side of his vehicle and fired several shots. Page tried to drive away but collided with a parked vehicle. He was taken to a local hospital, where he was pronounced dead at 11:37 p.m. —From the L.A. Times Homicide Report Blog 
This is why we preach at stop lights!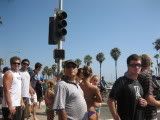 Read about Stop Light Preaching here!